Hi,
I'm running an OPNsense firewall behind a Telekom FRITZ!Box, which is configured as exposed host.
The OPNsense firewall get both dynamic IPv4 adresses and dynmic IPv6 subnets.
My deSec domain should point both A and AAA records to these adresses.
Currently there are two DDNS updater in OPNsense 22.7_4
a) Dynamic DNS (legacy) (whatever that is)
b) Dynamic DNS (ddclient)
I was using the legacy one (which will disappear in one of the next minor releases!) without trouble, but since the update from 22.1 to 22.7, the updater results in the AAA record being set and the A record being deleted.
In the legacy updater, there are three settings deSec, deSEC(ipv6), deSec(ipv4 + ipv6).
Even if I select deSec(ipv4 + ipv6), the A record gets lost after some time.
Trying to use ddclient just results in the same behavior: no IPv4 A record any more.
and this is all I can configure for ddclient: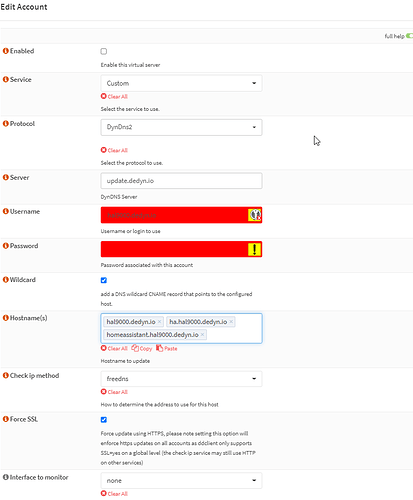 and it does not work as expected - just the IPv6 AAA record ist set …
any idea how to solve this?