Hi all,
Am I setting a PTR record for 1.mygeekvps.net correctly?
Hi vk2xxy,
Thanks for your message, and welcome to deSEC!

It seems like you would like to set up a PTR record for Reverse DNS under your own domain, with the IP-specific reverse hostname in the PTR record content.
This is not correct: These PTR records do not live under your custom domain, but under the reverse IP-specific domain, and your custom domain name goes into the record content. In other words, you need to switch the name under which the PTR record is created, and its content.
To do that, you need to create a domain at deSEC corresponding to the IP subnet allocated to you, and then talk to your IP registry and ask them to delegate that domain to deSEC. Then, create a suitable PTR record under that domain, with the content pointing at the associated name (e.g. mygeekvps.net.).
Stay secure,
Peter
Thank you Peter for your reply which cleared a few things up.
So, I host three websites at three different ipv6 addresses.
For each of those ipv6 addresses I require a reverse domain for each.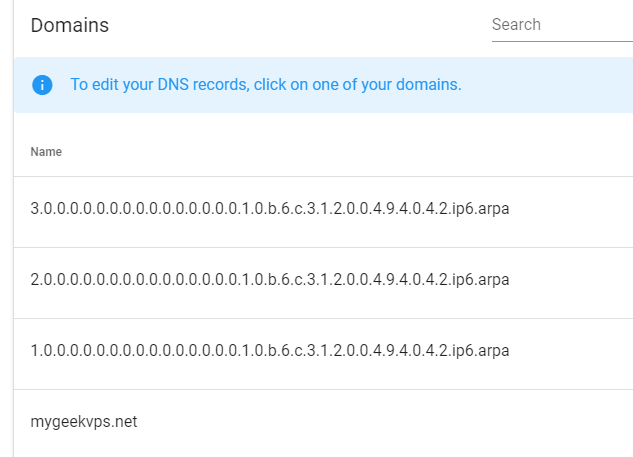 In each reverse domain I create a PTR record.
All the above now has reverse lookups working.
At my VSP provider I have a /56 range of ip addresses. Can I do some sort of summarisation to reduce the number of reverse domain records?
Kind regards,
William.
ps. As a new user I can only have one image. I have left the most relevant.
You can create a "parent" domain by cutting off some labels in front, and using the cut-off labels as the subname for the PTR records in that zone.
This is what I meant by:
Stay secure,
Peter